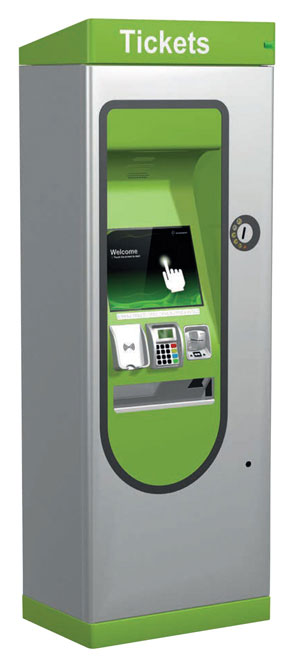 Galexio
Estação de pagamento compacto a um preço acessível
Fully weather-proofed
Easy-to-use touch interface
Fast transactions
All payment forms
Small footprint
Descrição
Galexio is an unattended terminal offering transit operators a dependable and economical solution, ideal to meet their existing needs as well as their future endeavors.
Its compact design helps make the most effective use of available space, whether on a station platform or located externally, its high security and weather resistant cabinet really allows for the pay station to be almost anywhere.
Galexio offers a wide range of functions, including printing of ISO or Edmonson format tickets, reading and reloading of contactless cards, as well as distribution of contactless tickets, remote sales support and contactless payment.
Ultimate flexibility in a small footprint
All payment methods: bank notes, coins with recycling, bank cards.
Encoding and distribution of most format and technologies of transit tickets (barcodes, magnetic stripe, contact-less technology) with different media (paper, thin flexible cards).
Inside or out…the small footprint Galexio from Parkeon adds real value to effective rail retailing.
Media consulting and reloading.
User-friendliness
User interface designed to ensure convenience and security during the transaction.
Accessibility to people with disabilities in compliance with standards.
Optimal transaction time thanks to an intuitive interface and fast processing.
Robustness & reliability
Qualified and well-proven subparts for similar use.
Strong resistance to vandalism and fraud.
High reliability
Cost effective
Quick operations to feed stocks.
Easy maintenance.
Small footprint.

Segurança

Eco-concepção

Investimento Baixo

Robusto
Neves & Neves
Representações de Equipamentos para Transportes, Unip. Lda.
Rua Augusto Pereira Valegas, 19
2835-309 Lavradio | Portugal
(+351) 212 106 212
info@nneves.com

38.6557441"N | -9.050477,3"W