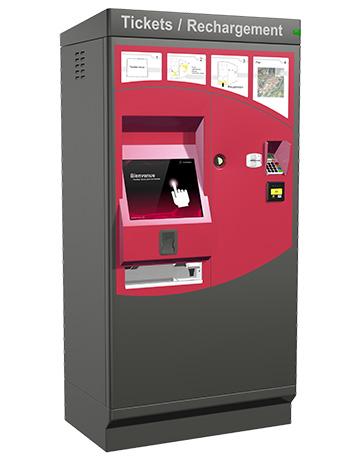 Astreo
Estação de pagamento com funcionalidade completa
Modular & scalable
Ergonomic & secure
RSP approved & DDA compliant
Easy maintenance
Coin change and recycling
Descrição
With a integrated design and many available options, the automatic distribution and payment Astreo terminal is a well-adapted solution to answer different transit operators' needs.
Astreo accepts all payment methods, has a wide range of user interfaces, provides encoding and distribution capabilities of all types of formats and technologies for transit tickets.
Astreo is also offered as a pay station for off-street parking solutions with barriers.
Full options
All payment methods : coins with change and recycling, bank notes, bank cards, private smartcards, electronic purses.
Encoding and distribution of all format and technologies of transit tickets (barcodes, magnetic stripe, contact-less technology) with different media (paper, thin flexible cards, rigid cards…).
Media consultation and reloading
Ergonomic & convenience
User interfaces are designed to ensure convenience and security during the transaction.
Accessibility to people with disabilities in compliance with Coliac/Colitrah standards in France, CEMT in Europe and DDA in UK.
Optimal transaction time thanks to an intuitive interface and fast processing (touch screen or selection by a knob).
Robustness & reliability
Qualified and well-proven subparts for similar use.
High resistance to vandalism and fraud.
Cost effective
Quick operations to feed stocks.
High reliability.
Easy maintenance.

Segurança

Eco-concepção

Investimento Baixo

Robusto
Neves & Neves
Representações de Equipamentos para Transportes, Unip. Lda.
Rua Augusto Pereira Valegas, 19
2835-309 Lavradio | Portugal
(+351) 212 106 212
info@nneves.com

38.6557441"N | -9.050477,3"W